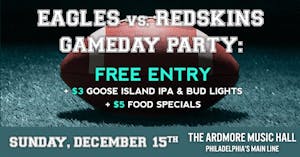 Eagles Game Day Party: Free Entry, Beer/Food Specials, Open Bar & More!
Eagles vs RedskinsGame Day Party: Free entry + $3 Goose Island IPA & Bud Lights + $5 food specials + open bar
Wondering where to watch the Eagles game against the Washington Redskins? Ardmore Music Hall has you covered! Get tickets for the Eagles viewing party at Ardmore Music Hall on Philadelphia's Mainline today!
Open bar tickets include 3 hour open bar running from 12:30 - 3:30pm.
Try our All You Can Eat Wings in our house buffalo sauce while you're here!

Venue Information:
The Ardmore Music Hall
23 East Lancaster Ave
Ardmore, PA, 19003