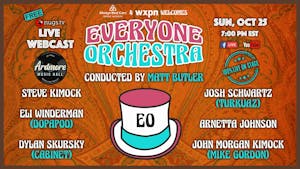 Always Best Care & WXPN Welcomes
Everyone Orchestra Full Band LIVE On Stage Webcast
Conducted by Matt Butler ft. Steve Kimock, Eli Winderman (Dopapod), Dylan Skursky (Cabinet), Josh Schwartz (Turkuaz), Arnetta Johnson, John Morgan Kimock
$0.00 - $39.00
Sales Ended
Join us at 7PM for a free live stream with Everyone Orchestra! Tips to the band & venue are encouraged.
Where To Watch at 7pm ET on Sun 10/25
✔️ Ardmore Music Hall's Facebook
✔️ Ardmore Music Hall's Youtube
✔️ Nugs.net
Lineup
Conducted by Matt Butler ft. Steve Kimock, Eli Winderman (Dopapod), Dylan Skursky (Cabinet), Josh Schwartz (Turkuaz), Arnetta Johnson, John Morgan Kimock
Tips & Donations Are Welcome
This live stream is free, but tips to support the musicians and venue are welcomed! Tips accepted at @Matt-Butler-EO (Venmo) or eo.tipjar@gmail.com (PayPal)
All tippers are automatically entered in to win prizes including a $40 Ardmore Music Hall Merch Voucher & More!
All tips will be split between the band and Ardmore Music Hall staff ❤️
Win a Chance to Attend LIVE, IN PERSON! 🎟️🎟️
ENTER THE RAFFLE HERE for a chance to attend the show in person! The drawing ends on Mon 10/19 at 12 PM ET. No more than 35 people (including winners, artist, and venue staff) will be in attendance.
Live Audio Recording + Signed Poster Bundle Available
Signed Custom Event Poster (price includes shipping / US only) + multi-track audio recording of the upcoming Live webcast. You'll receive a separate email to confirm shipping address. Recording will be delivered to you via email within 10 days of the performance // $39
Virtual Front Row Access - Zoom Fan Party!
Join the free in-show Zoom Fan Party! Dance with us and interact with the band & other fans in real time. Head to Ardmoremusichall.com/fanparty to join during the broadcast and for more info!
Venue Information: