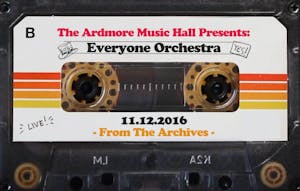 From The Archives - Everyone Orchestra - 11.12.16
November 12, 2016, Everyone Orchestra ft members of The Disco Biscuits, Moe., Snarky Puppy & more - captured live at Ardmore Music Hall!
NOTE: Instructions to download audio files will appear immediately after purchase in confirmation under "Organizer Message".
100% of proceeds benefit Musicians + AMH Staff!
Players
Conducted by Matt Butler
Steve Kimock
Marc Brownstein & Aron Magner (The Disco Biscuits)
Al Schnier & Vinnie Amico (Moe.)
Jans Ingber (formerly of The Motet)
Snarky Puppy Horns- Chris Bullock & Jay Jennings
Set List
Intro
A Little Bit Of Love
MOVE
Turn It Around
Loose Booty
Tip Toeing Through Fire
Fill Me Up
That Good Stuff
The Keys
Stay A Little Bit Longer
Goodnight Banter
I'll See Through It
Sound Engineer: Jesse Soifer
Post Production by Galactic Cat Audio
Venue Information: