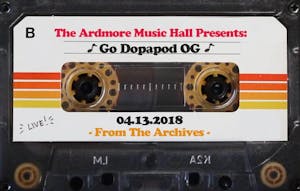 This is a downloadable audio recording of a past live event at AMH.
From The Archives - GO Dopapod OG - 04.13.18
April 13, 2018, GO Dopapod OG - captured live at AMH!
NOTE: Instructions to audio download will appear in confirmation under "Organizer Message".
100% of proceeds benefit Musicians + AMH Staff!
Players
Eli Winderman
Rob Compa
Mikey Carubba
Set List
HOUSE MUSIC
Chauk
Brookline Bridge
Vultures
Witching Hour
Weird Tooth
Gator
Freight Train
Our Father
Sound Engineer: Jesse Soifer
Post Production by Galactic Cat Audio
Venue Information: