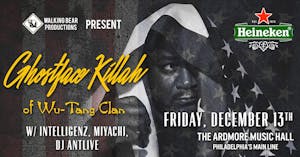 Presented by Walking Bear Productions
Ghostface Killah
Intelligenz, Miyachi, DJ Antlive
$35.00 - $55.00
Sales Ended
Member of the legendary Wu Tang Clan. Seated tickets available!
Ghostface Killah (Wu Tang Clan)
See Ghostface Killah (of the Wu Tang Clan) live at The Ardmore Music Hall on December 13th, 2019!
Intelligenz
I Am What I What I Was Never Supposed to Achieve – a phrase created by Chicago born and raised Emcee, Intelligenz, to describe her passion and determination to use music as a route for overcoming her childhood adversities. Surviving group homes, foster care and the loss of her mother at 16, Intelligenz chose a name that would force her to be accountable for not just her lyrics but posture. A nod to hip-hop itself and times when words were used to educate, inform and uplift her community, the name is not about ego, but respect to the essence and
impact hip-hop has always had on the culture. This Air Force, veteran began writing in high school. She kept the talent hidden for years, using it as her own personal outlet before finally getting the courage to start performing at open mics, local festivals and eventually competitions. Battling, stage fright, she went on to enter MC Lyte's cypher-style "Next Top Female MC" contest and won – securing a two year management deal with MC Lyte which led to a mentorship with, arguably the greatest female emcee of all time; and also forcing her to conquer fears.
Since then, Intelligenz signed with Record label, HiPNOTT Records, releasing and touring her hit "Round of Applause" worldwide. Now moving as an independent artist, she continues to break barriers and expectations. She was chosen as the opening talent and female emcee for the legendary Slick Rick on his 2016 Coming Home Tour to the United Kingdom after twenty years. Furthering her reach, she's also toured with him throughout Europe and again in 2018 in Australia on the joint Slick Rick and Raekwon summer "The Ruler and the Chef tour". Intelligenz has opened for other hip-hop heavy weights such as Wutang, Rakim, Redman and Method Man, Lloyd Banks, Lord Finesse, Rah Digga, De La Soul, Masta Ace, and many more. Continuing to push her singles, Welcome to the Grind, and I'm a Movement, she is preparing to debut her first album entitled "Now or Never". Intelligenz aims to break industry barriers by continuing to speak to the conscious listeners who still crave the authenticity of hip-hop. From her freestyles on the Sway In the Morning show with Sway Calloway to her poetic writing, this debut album will include no emcee features and of course will be completely written by Intelligenz in all capacities from hooks to verses. Her goal is to be a success story for the legends that have opened the door for her, an example to the young women fighting to be heard, while honing her craft daily to follow in the footsteps of those we regard as our greats. She aims to help women remember that their mind is pen game is just as capable as the man men before her.
Miyachi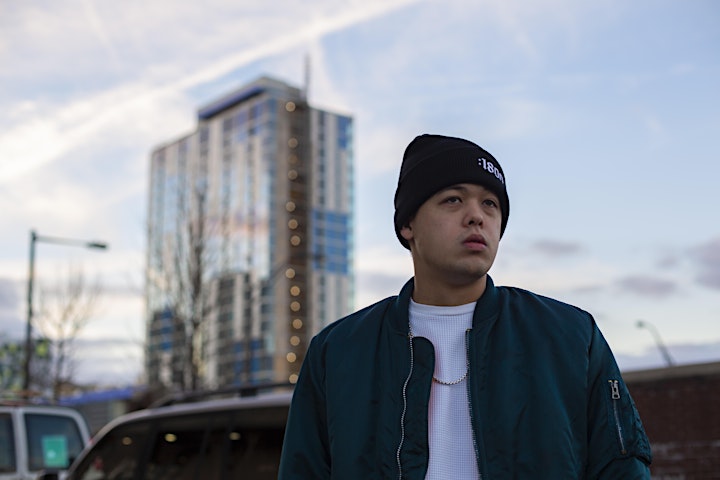 Miyachi is a Japanese-American Bi-Lingual Artist/Producer that hails from NYC.

He learned piano at a young age and worked professionally as a Studio & Live Engineer before launching his career as a Rapper.

Miyachi signed to Sony Music Japan and released his Debut Album "Wakarimasen" in July, 2019.

"Wakarimasen" peaked at #1 on Japan's Viral 50.

He has Toured across Japan, France, USA and been featured on Japanese National Television & Radio (Abema TV, Ryuha-R, Block FM, etc.).

Miyachi has written songs for SoftBank & WWE Shinsuke Nakamura's Opening Theme Song.

Be on the look-out for more exciting releases from Miyachi coming soon.

Venue Information:
The Ardmore Music Hall
23 East Lancaster Ave
Ardmore, PA, 19003