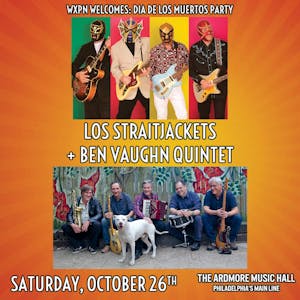 WXPN Welcomes: Dia de los Muertos Party!
Los Straitjackets
The Ben Vaughn Quintet
WXPN WELCOMES: DIA DE LOS MUERTOS PARTY!
WXPN Presents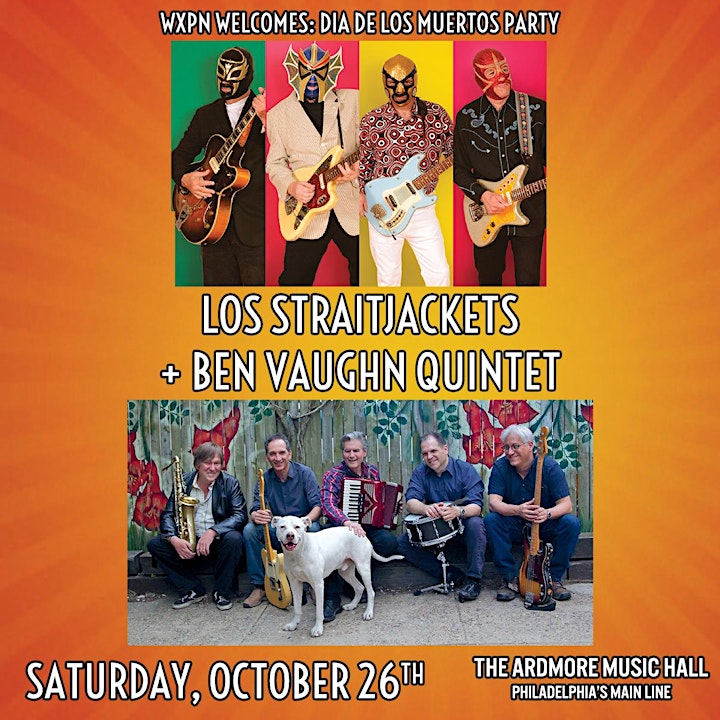 Los Straitjackets
LOS STRAITJACKETS
Los Straitjackets are the leading practitioners of the lost art of the guitar instrumental. Using the music of the Ventures, The Shadows, and with Link Wray and Dick Dale as a jumping off point, the band has taken their unique, high energy brand of original rock & roll around the world.
Clad in their trademark Lucha Libre Mexican wrestling masks, the 'Jackets' have delivered their trademark guitar licks to 16 albums, thousands of concerts and dozens of films and TV shows. Viva Los Straitjackets!
Ben Vaughn Quintet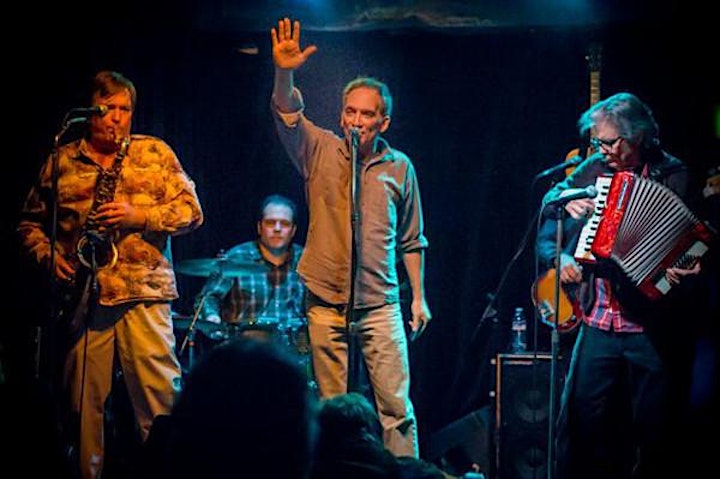 THE BEN VAUGHN QUINTET

Ben Vaughn grew up in the Philadelphia area on the New Jersey side of the river. At age 6, his uncle gave him a Duane Eddy record and forever changed his life.

In 1983, he formed the Ben Vaughn Combo. The band was together five years, releasing two albums and touring the U.S. several times. They received rave reviews in Rolling Stone and People magazine and video airplay on MTV. The attention inspired Marshall Crenshaw to record Ben's "I'm Sorry (But So Is Brenda Lee)" for his "Downtown" album.

Ben embarked on a solo career in 1988, recording several critically acclaimed albums, touring extensively in Europe and the U.S. and receiving more MTV exposure. During that period he produced three records for the Elektra Records American Explorer series (Memphis rockabilly legend Charlie Feathers, Muscle Shoals country soul singer Arthur Alexander) and recorded "Cubist Blues," a collaboration with Alan Vega and Alex Chilton. He also scored two films ("Favorite Mopar" and "Wild Girl's Go-Go Rama"), as well as appearing as a frequent guest commentator on nationally syndicated radio shows "Fresh Air" and "World Cafe."

In 1995, Ben moved to L.A. and released "Instrumental Stylings," an album of instrumentals in a variety of styles. A guest appearance on KCRW's "Morning Becomes Eclectic" led directly to being hired as the composer for the hit TV sitcom "3rd Rock From The Sun." "That 70s Show" soon followed, and for the next ten years Ben would provide award-winning music for a dozen other TV shows and pilots ("Men Behaving Badly," "Normal, Ohio," "Grounded For Life"). He also provided scores for several films ("Psycho Beach Party," "The Independent," "Scorpion Spring") and continued producing records (Ween, Los Straitjackets, Mark Olson of the Jayhawks, Nancy Sinatra, and the "Swingers" soundtrack CD).

Somehow Ben found time to create the legendary "Rambler '65." Recorded entirely in his car, this much-publicized album (and subsequent short film) is still considered by many to be a classic document of a man and his dream.

Since then, Ben has released "Designs In Music," "Vaughn Sings Vaughn Vols. 1-3," "Texas Road Trip" (recorded in Austin, Texas with Doug Sahm's band) as well as "Five By Five" and "Piece de Resistance" by the Ben Vaughn Quintet.

Add to that an Italian dance hit (a DJ re-mix of "Hey Romeo"), airplay of "Jerry Lewis in France" on Bob Dylan's radio show (complete with Dylan's recitation of Ben's resume), and two recent tours in France and you're looking at what continues to be a very interesting career.

Occasionally, Ben takes a break from his syndicated radio show ("The Many Moods of Ben Vaughn") to perform live in the US and Europe. The dates are randomly planned so catch him while you can!

Venue Information:
The Ardmore Music Hall
23 East Lancaster Ave
Ardmore, PA, 19003