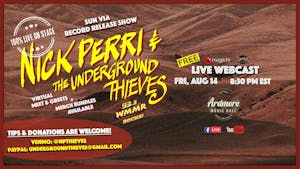 AMH x Nugs.net x Founders Present
Nick Perri & The Underground Thieves FULL BAND LIVE ON STAGE Webcast
Free to view ; Tips to the band & venue are encouraged, Join the Free Zoom Dance Party @ Ardmoremusichall.com/fanparty
$0.00 - $49.00
Sales Ended
Head over to the Ardmore Music Hall Facebook page at 8:30pm EST to catch the live broadcast! Tips to the band & venue are encouraged.
Nick Perri and The Underground Thieves will be performing at Ardmore Music Hall for a very special live broadcast.
Where To Watch
✔️ Ardmore Music Hall's Facebook
✔️ Ardmore Music Hall's Youtube
✔️ Nugs.net
Tips & Donations Are Welcome
This live stream is free, but tips to support the musicians and venue are welcomed! Tips accepted at @NPThieves(Venmo) + undergroundthieves@gmail.com (Paypal)
All tippers are automatically entered in to win prizes including a $40 Ardmore Music Hall Merch Voucher & more!
All tips will be split between the band and Ardmore Music Hall staff ❤️
Virtual Front Row Access - Zoom Fan Party!
Join the free in-show Zoom Fan Party! Dance with us and interact with the band & other fans in real time. Head to Ardmoremusichall.com/fanparty to join during the broadcast and for more info!
Virtual Meet & Greet + Signed Poster Bundle Available
Includes a Private Virtual Meet & Greet on 8/14 w/ Screenshot Photo Opportunity + Signed Event Poster (price includes shipping) + Access to Zoom Fan Party // $49
CD + T-shirt Bundle Available
Includes new album Sun Via in CD format + T-Shirt + Access to Zoom Fan Party // $29

Venue Information:
Live from Ardmore Music Hall (Ardmore, PA) To Your Home
23 East Lancaster Ave.
Ardmore, PA