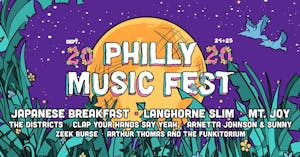 Philly Music Fest 2020: LIVEstream from Ardmore Music Hall
Japanese Breakfast
Zeek Burse, The Districts, Arnetta Johnson
$0.00 - $40.00
Sales Ended
NO PURCHASE REQUIRED FOR THIS EVENT, BUT YOU CAN CLICK THE "TICKETS" BUTTON TO PURCHASE A POSTER, LIVE RECORDING + MORE.
Where To Watch at 7pm ET on Thu 9/24
✔️Philly Music Fest Watch Page
✔️NPR
✔️ Ardmore Music Hall's YouTube
✔️ Ardmore Music Hall's Facebook
✔️ Nugs.net
If you prefer the radio, be sure to tune in to WXPN!
Lineup
7:00 PM: Arnetta Johnson & Sunny
7:20 PM: The Districts
8:10 PM: Zeek Burse
8:50 PM: Japanese Breakfast
Philly Music Fest is committed to supporting music education programs, local musicians and independent music venues and venue staff.
If you would like to donate to kids' music education or help PMF deploy micro-grants to musicians or venue staff in need, you can do so through these channels: @PhillyMusicFest (Venmo)+ phillymusicfest@gmail.com (Paypal)
PMF is a registered 501(c)(3) non-profit organization.
Venue Information: